Testimonials
Wearing Dalimara Quantum Pendant helps Robert in his quest to hike the entire Hudson Highland rocky mountains of New York USA that took him 14 hours to finish. As seen on CNN.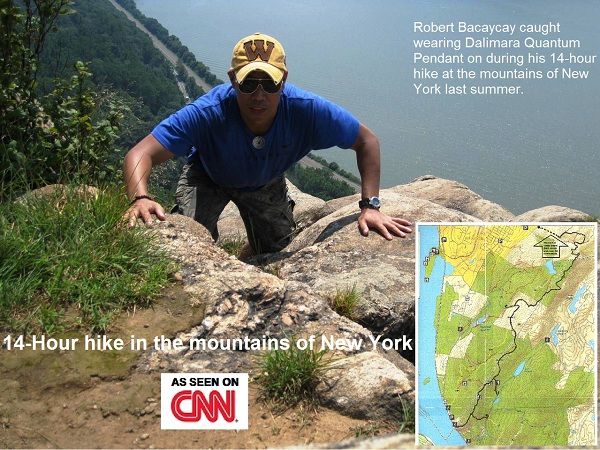 To all sceptics,
My name is Robert and I'd been wearing Dalimara® Quantum Pendant 24/7 since 2009. I own about 5 Dalimara Quantum pendants in different design. I wear only one Quantum pendant at a time. I never been sick since I started wearing Dalimara pendant, my insomnia is gone, work everyday, I do have extra activities everyday, I travel a lot and I'm always in front of computer at least 6hrs a day. Despite all these stressful lifestyle in today's world, my energy level is increasing. In fact, last night a friend of mine posted a photo on Facebook with Third Eye or 6th dimension light energy so visible with some kind of yellow energy force coming from my forehead. I was shocked at first, then I realized maybe its coming from the Dalimara Quantum pendant with 6000 negative ions I'd been wearing for years now. Authenticated by Foto Forensics

Dalimara Quantum Pendant enhances bio energy





Most recent personal testimonial
1) 10pm - First picture, my left foot got swollen & painful
2) 2am - I couldn't sleep due to severe pain so I decided to tape the Quantum Pendant
3) 7am - Woke up in the morning with my left foot back to normal & start walking again!
Hi Robert,
Well I am ordering another five QP1 pendants today. That makes a total of 19 now. 5 to South Africa, 4 to me and 5 to the UK. My whole family and in laws are wearing them and the benefits have been endless. What an amazing miracle for aches and pains this pendant has been. Energy is up. I can't say enough and people just keep asking for me to get them one. So thanks for the great service and I look forward to receiving the next order.
Colin from Boca Raton FL
Hello Dalimara,

Thank you for reminding me! since i used this pendant I got lot of energy, and feel like scattered all over my body, and start to work by doing laundry, ironing clothes at the same time until 1Am
in the morning, and i didn't feel tired.. and my husband ask me why I never stop doing something,, it's amazing!
And you know what! if you have on sale e-mail me and I get 3 more!!!

Thank you so much,

Sally
Rancho Cordova, CA


Good afternoon,
Thank you for introducing me to your wonderful product. My family and I are using the Pendant (Round and Cross designs) everyday and we experience the change in our health and become more alert and energized.
This is to inform you that I have highly recommended the product to my colleagues and friends.
More power to you and to Dalimara and I am looking forward to purchase more in the future.
Maria Eve
Abu Dhabi UAE


"Since wearing the Scalar Energy Quantum Pendant, I have very little problems with any pain. I would recommend the Scalar Energy Pendant for anyone from all walks of life"
Scott Smith, Current Long Drive World Record Holder 539 yards


Good day,
I'm so amaze to the effect of your product...The quantum pendant.Im planning to be your distributor here in dubai uae, but for how long that the whole price is and also how your company support me and the suggested price you can give to me. Thank you and i hope you will be my business partner.

June
UAE


Hi Customer Service People,

We just recieved our pendant order today. To our surprise, we found a bonus in the package, an "anti-radiation $ battery salvage sticker." We were discussing whether to buy one to see if it worked well for us, and there one was in the mail. I am pleased with the pendant, it totally improves my well being.

Jeffrey
California


Hi Customer Service People,
We just received our pendant order today. To our surprise, we found a bonus in the package, an "anti-radiation & battery conditioner sticker." We were discussing whether to buy one to see if it worked well for us, and there one was in the mail. I am pleased with the pendant, and am excited to see how well it improves my well being.
Jeffrey Brower
Utah
I do enjoy the pendant as it has helped me in different things, like climbing trees. I take trees down around homes and I clime with tree spurs and tree saddle with safety line and chain saw...oh and I'm 70 years old. Another question: My wife wore the Pendant in the shower, will that have any effect on it? Thank you for your time and hope to hear from you.
Rodger
Michigan
I'm a massage therapist & work 10-12hrs a day. I have to treat a lot of customers daily. Honestly, I usually feel tired but always try to give the best service to all.
Fortunately, few days back, Dalimara gave me the chance to put on the Quantum Pendant. It was tremendously good. I didn't feel tired like before. I felt more energetic instead. I am still wearing it now. The number of customers is no longer a big issue for me, in fact, the more the better.
Marlyn Wallace
Cypress , CA
My wife & I always have trouble falling asleep. Thanks to your product QP, ever since we started wearing the pendant we had nightly good night sleep. You just saved our marriage!
Alvin Chavez
anchorage, AK
I used to be breathless when I walk 4 flights of stairs to my walk-up apartment. When I started wearing Dalimara Quantum Pendant, I was amazed that I can now climb the same 4 flights of stairs WITHOUT becoming breathless! Not only that, I am now full of energy all day long and I can also focus more sharply on my work. My overall endurance has improved. Thank you so much Dalimara, for your amazing Quantum Pendant!
Cynthia Palecek 59yo
Glendora, CA
Thank you received my order today .I'm very pleased with it. thank you for your excellent service . yours truly
Stuart Miller
Houston, TX
I just got promoted to international route as flight attendant and have always thought that I coped fairly well with jet lag, until I felt the difference when I started wearing the Dalimara Pendant. The first time I noticed a dramatic difference was after a round trip to Japan. After the flight I was still thinking clearly, even though I still felt some physical tiredness I did not have that spacey feeling I so often experience after long international trips. I would highly recommend the Quantum Pendant to every flight attendant, on any airline, and to anybody else that travels by air frequently.
Mai Lyster
St Petersburg, FL
Dalimara quantum pendant really helped me relax and focus much better on the golf course. I don't get nearly as uptight as I did before. All in all, it's an amazing product. I'm wearing it 24/7!
Suzuki
Allentown, PA
I just received my Quantum Pendant yesterday and am very pleased with the quality and speed of your mailing service to out of country clients. I have many friends that are wearing the Quantum pendants and all are very happy with them. The pricing and speed of your product and shipping are very good. I'm sure I will deal with your company again and tell others about you. Thanks again.
Bill D. G.
London
I've always developed a cold or flu, at least four times a year. Since wearing Dalimara quantum pendant for the past 6 months I've had no colds or flu anymore. Incredible!
Linda Solorio
Sacramento, CA
My quantum pendant arrived last Wednesday. I started using it right away. The feeling after using it the first time was one of renewed energy and well being. I thought it might be the placebo effect so I waited to see how the second day went. It went great! I have been using it 24/7 except when I take a shower and I have to write you a note of thanks. Also I find that I am sleeping better at night and feeling more rested than I have felt in months when I wake up.
Thank you for a great product and I am looking forward to using it for many years to come.
Sincerely,
Jerry Perkins
Lake Wales, FL
Don't you guys have any work to do? Every time I write to you I get an answer right away. You don't need to reply to this letter. As you know by now, I have a bad shoulder from years of contact sports. I got a gift of a Dalimara titanium bracelet. I'm too young to believe in folk cures and I knew it wouldn't help but I wore it to keep the peace. You remember all the questions I had that you kept answering? Well, I asked them for a reason. The bracelet worked. Or something worked, because my shoulder is much better. I wear my bracelet 24 hours a day. I'll probably never take it off. Thanks.
Philip Mauro
Stockton, CA
I saw the ad for the Quantum Pendant on Asian paper. I ordered one and it was delivered in 5 days. The swelling in my left foot went down overnight. My husband asked me to get one for his birthday and I bought two more for friends. I'm a fan!
Rosela Perez
San Diego, CA
I am so impressed with everything: products available, price, ease of website use, communication and updates of order status and last but not least the quality and health benefits of the two items that I purchased (quantum pendant & bracelet). I really like the products.... I will order again... Fast friendly service..
Jonas Santos
Fort Lee, NJ
Read Over 1950 Feedback from our Ebay store
CLICK HERE
Read customers review in each product in this website CLICK HERE
All items in this site are not being sold as a medical device & is not intended to diagnose, treat, or cure any disease.
---
---
The information provided at Dalimara is not intended for diagnosis or treatment of any health problem or for prescription of any medication or other treatment. Please consult your health care provider for advice about a specific medical condition.